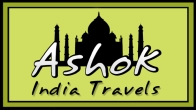 Ashok India Travels Pvt. Ltd.
Company Profile:
Ashok India Travels Pvt. Ltd. is having main office in Jaipur, India and branch offices in Germany and Spain, the company was established in 2005 with the object of furthering the cause of an indigenous travels agency, It has grown into a pioneering tour operating agency. Today, after many years of distinguished service in tour operations, Ashok India Travels Pvt. Ltd. has emerged as a leader among tour operators. We offer a variety of tours that display the amazing diversity of India including its tradition, language, dress, cuisine, and life style that vary from state to state. The company's core activities are inbound tourism, domestic and leisure travels & corporate travels & specialized department to organize and handle meetings, hotel reservations, train bookings & car rentals. .
We have a wide network of associate offices all over India to take care of clients. We also have an experienced team of Management staff to look after the needs of every individual customer. The company is fully bound and licensed by Department of Tourism, Govt. of India for your confidence and owns it's own fleet of tourist vehicle, deluxe cars and coaches. We aim to deliver quality and affordable holidays in India and Nepal. The many clients who have booked and traveled with us can confirm the friendly and efficient way we have handled their holiday and travels requirements. For whatever reason that may take your to our lovely country or to Nepal, rest assured that Ashok India Travels Pvt. Ltd. is here to give you the best of its products and services.
Our Services:
We are specialized in organizing tour packages in all India and Nepal. We also organize specially tours in North of India, South of India, Tours in Nepal, Wildlife Tours in all over India, Car Rentals in India, Ethnic tours in Rajasthan, Hotel Bookings in all important cities of India, Train and Flight Reservations in India. We also do organize tours for Honeymoon Couples and Luxury tours in incredible fort and palaces of India or in great hotels of Oberoi and Taj Group and some Heritage Hotel Groups of India.
Ashok India Travels Pvt. Ltd. not only organize the tours as they are printed in the itinerary but also work out any special tailor made itinerary in any part of India. We are a dedicated travels agency and out motto is to satisfy our clients and to make their travels a pleasure. We also organize tours of special care or attention like tours for Student Groups, Multinational Companies, Religious People interested in particular places in India and Nepal. Ashok India Travels Pvt. Ltd., team spirit occupies a expertise and Managed by a young and professional staff, our mission statement is
"Deliver more than you commit".
Hello friends! We invite you to travels to India - a land of majesty and hospitality.
Why Ashok India Travels Pvt. Ltd.:
Through Ashok India Travels Pvt. Ltd., you will find a team of dedicated professionals, each contributing their optimum expertise to deliver and ensure complete satisfaction of our clients. Our young team of tour planners and designers, expert tour organizers and professional tour guides together with our friendly staff members, strive to give the guests an authentic and rich holiday experience.
We believe that when you are discovering a foreign land, what you need is one who understands your requirements, a specialist who knows the destination, whose care and concern you can depend on - indeed a person with whom you can share your travels experience. This dedicated consultant listens to you carefully, analyses your needs and offers the complete solution. We offer a complete travels management, in other words everything from planning to execution of tours. Whether you are a large corporate client demanding custom travels services or an individual traveler looking for a weekend getaway, you will always receive our professional and personal attention. We ensure your tour needs to be taken care with immense concerns. We also take care about the flexibility of your tour program.
Our Vision:
"Building Memories Through Travel"
Travel is not about airplanes, car rentals , hotels etc. Travel is all about the memories you bring back with you. Experiencing new destinations, visiting family, meeting new people and getting back together with existing friends is what travel is all about.
Our Mission:
As an employee-owned travel agency, Ashok India Travels Pvt. Ltd. is committed to be an innovative industry leader whose growth and success is anchored by our values, integrity and dedication to customer service. We also share a conviction that as world travelers we have a responsibility as individuals and as a company with respect to positive social and environmental change. We are committed to responsible travel that promotes understanding of and helps conserve cultural and natural environments, and are mindful of practicing good citizenship that is supportive of places we visit, as well as of our own community.
Our Promise:
We promise to delight customers and colleagues. The growth and success of our company depends upon fulfilling customers' expressed and unexpressed needs.